Move over braces, there's a new option in town.
Invisalign® clear aligners are the modern alternative to braces. Like braces, Invisalign treatment can correct a wide range of orthodontic concerns which is why 95% of orthodontists are happy with the results achieved. Unlike braces, Invisalign aligners are virtually invisible and easily removable.
Teens Love Invisalign Aligners
With Invisalign clear aligners, Your teenager will not be self-conscious about school photos, worried about what they can and can't eat, or challenged with how to brush around all the brackets and wires. Plus, replacement aligners are easy to come by should a one go missing. By wearing Invisalign aligners for just 20-22 hours a day, teens can see results in as little as 6 months. Give your teenager access to the modern orthodontics you wish you had as a kid.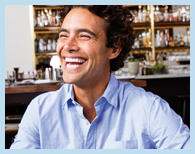 Adult Orthodontics
Invisalign clear aligners are a great option if you did not have the opportunity to straighten your teeth as a kid or if your teeth are not as straight as they once were. Wearing braces as an adult is not appealing to most but the beauty of Invisalign aligners is that they are virtually invisible. No brackets and wires mean they can be removed at mealtime so there are no worries about what you are eating. The removable aligners also make it easier to brush and floss your teeth. Invisalign wearers enjoy less time in the patient chair as appointments are less frequent than for braces wearers. Invisalign treatment can correct complex orthodontics in less time than braces as well. What's not to love?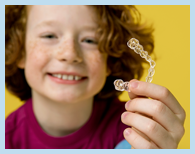 A Proactive Option for Little Ones
Invisalign First® aligners are designed to address early orthodontic concerns in children ages 6-10. If your kiddo is already experiencing crowding or spacing issues Invisalign aligners are a kid-friendly option to get their smile back on track. Invisalign clear aligners provide comfort that sharp brackets and wires can't offer which means kids can have an active life without fear of a mouth injury caused by braces. While Invisalign aligners stay affixed to teeth if an aligner goes missing during mealtime replacement is no problem. Kiddos are expected to wear their aligners 20-22 hours a day and there is a compliance indicator to help mom and dad ensure it happens. Orthodontics should not be scary or painful.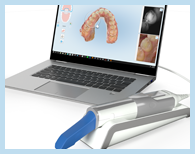 How it Works
We start by taking a digital scan of your teeth using the iTero scanner® which takes 6,000 images per second to ensure accuracy. With your scans we develop a treatment plan with a series of custom-made invisible aligners. Each tray is designed based on an algorithm that calculates just the right amount of force for each tooth movement. Every 10 weeks we will need to see you to check on progress and give you your next set of trays. Invisalign aligners need to be worn 20-22 hours a day and we can include a compliance indicator to they are being worn often enough. Some patients will see improvements in as little as 6 months.
Invisalign®, the Invisalign logo, and iTero®, among others, are trademarks and/or service marks of Align Technology, Inc. or one of its subsidiaries or affiliated companies and may be registered in the U.S. and/or other countries.