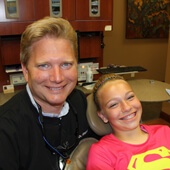 When you love your smile, your overall quality of life is happier. You're more confident, uplifted, and more fun to be around. We will help you evaluate all of your options and gently provide the procedures to create your perfect smile. As Mother Theresa said: "We shall never know all the good a simple smile can do."

Dr. Grebner is a certified Invisalign provider and treats teens and adults using clear aligners to straighten teeth.  Dr. Grebner also uses an iTero Element to take a digital scan of your teeth instead of using impression material.  Never hold back a smile again! Schedule your free consult today.
Traditional Orthodontics
Our dentists have the training and expertise to work with children and adults to improve under bites, over bites and crooked teeth with braces. Orthodontics improve your smile by applying a steady pressure to move your teeth where needed.
Porcelain Crowns
Dental crowns are used for a variety of reasons:  to prevent a tooth from breaking, to repair a broken tooth, for teeth with large fillings, for cosmetic reasons or for dental bridges and implants.  We use CEREC technology for most of our crowns, which means you leave with the right fit and the right color in one appointment. We warranty our crowns for 5 years if you stay a patient of record and maintain routine preventative dental care.
Teeth Whitening
For patients unhappy with their discolored smile, teeth whitening may be an effective option for you. We offer $100 custom-fitted whitening trays to all of our patients.
Bonding/Chairside Veneers
Dental bonding is a minimally invasive and less expensive way to correct a variety of concerns about the appearance of your smile. We've produced great results with chipped, cracked or discolored teeth. We've also used this procedure to close spaces between teeth, make them look longer and to improve the shape of teeth. A more permanent solution would be veneers or Lumineers.
Cosmetic Dental Veneers
Dental veneers are used to improve the color, shape, size or length of teeth. A thin shell is custom made to fit over your current tooth and leaves you with an improved smile. Our dentists would be happy to discuss if veneers are a good option for you.
Lumineers
Family Dental Care is your Aberdeen provider for Lumineers. Lumineers are an alternative to traditional veneers. Lumineers can be made as thin as a contact lens. With most Lumineers no drilling is needed to prepare the tooth for the veneer. In just two visits you can have a beautiful smile that lasts for years.
Dental Implants
We place and restore dental implants. A dental implant is used to replace a missing tooth or multiple teeth instead of a partial or denture. Using our 3D panoramic x-ray technology we get the most accurate picture of exactly what shape the implant needs to be. We also offer mini implants which can help to secure a loose denture.